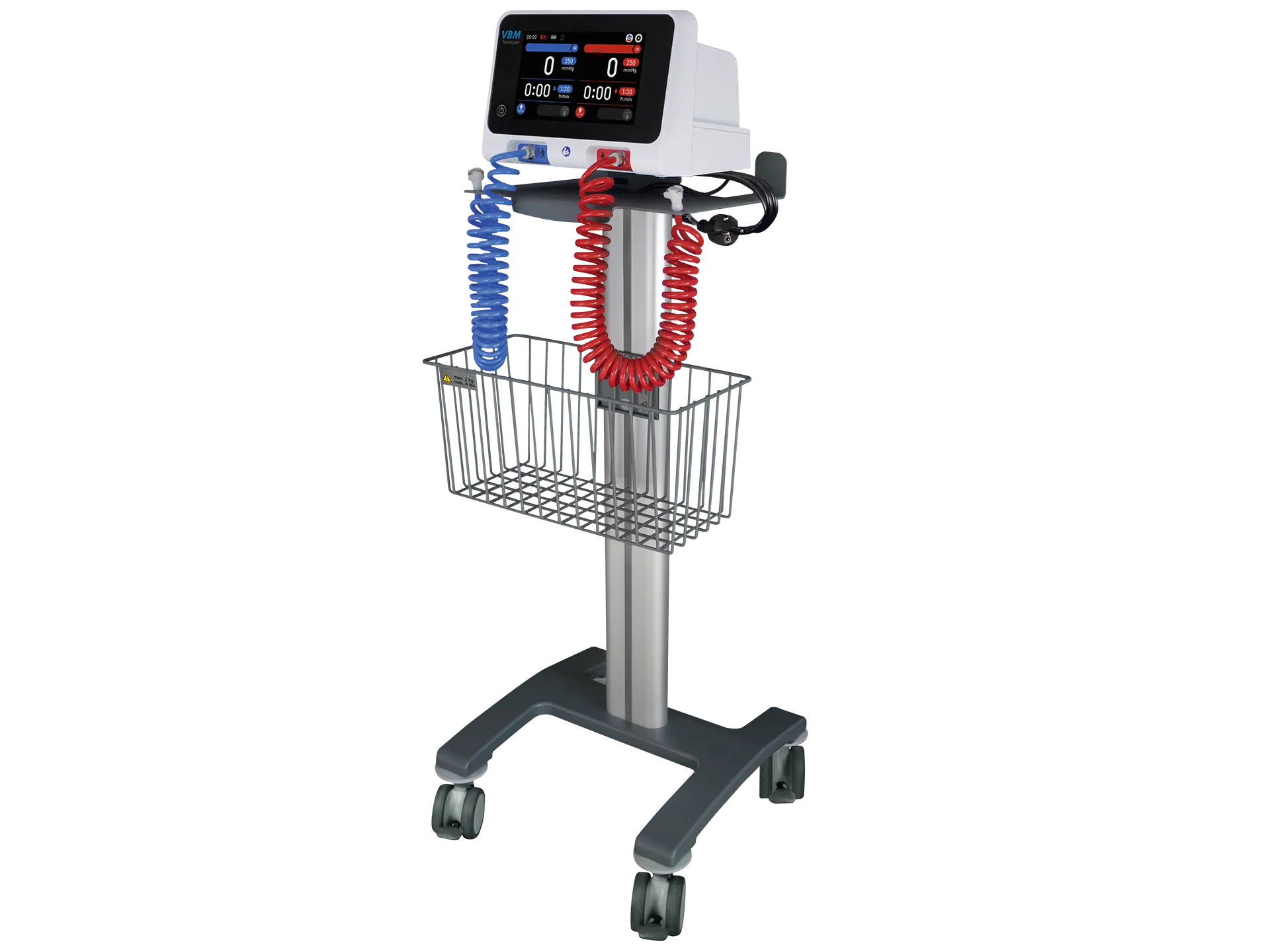 The new generation of Tourniquets with touch screen technology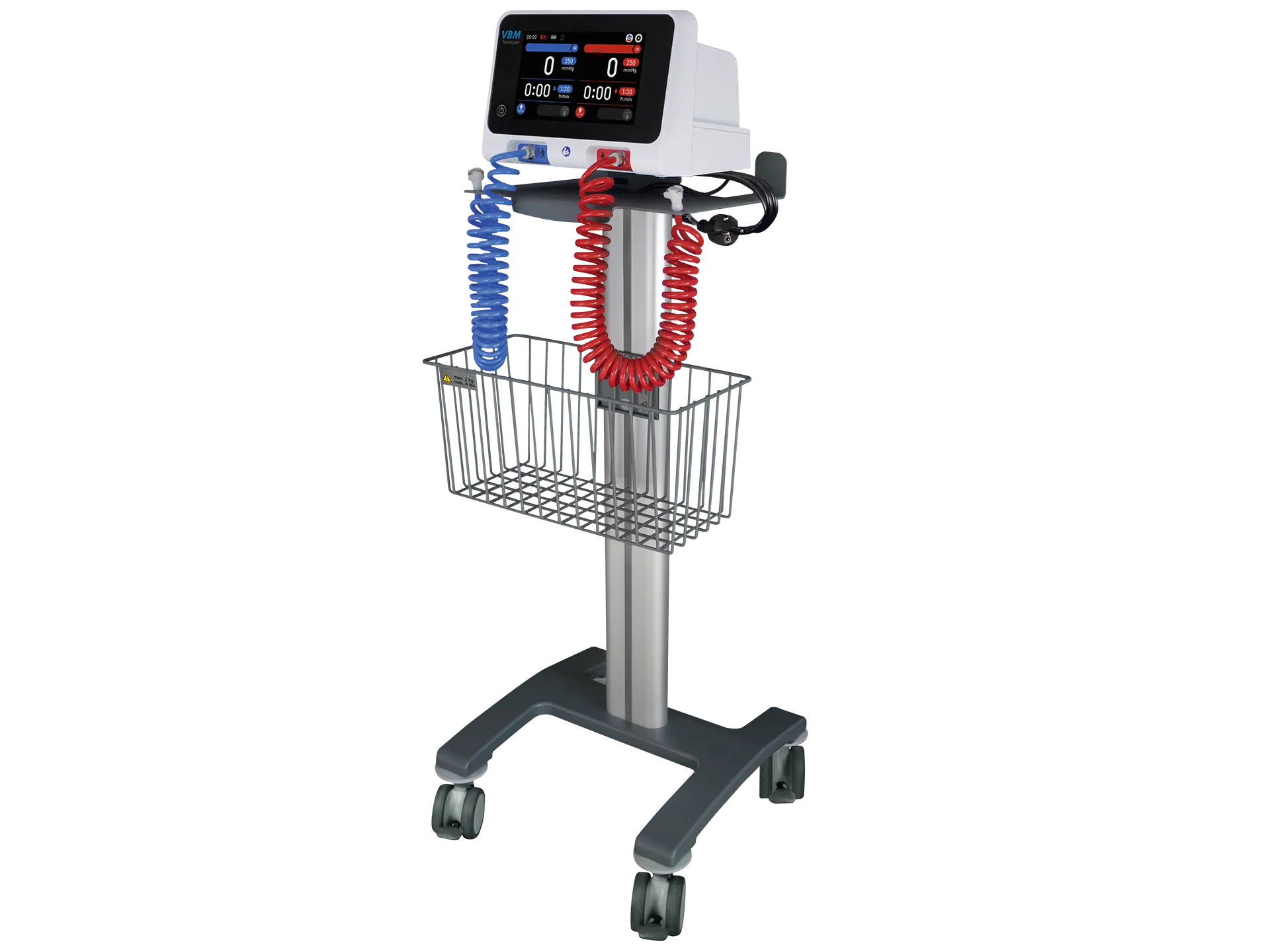 With the development of Tourniquet Touch, VBM has set up a new milestone in the manufacturing of modern Tourniquet combining quality, safety and simplicity.
Optimal precision and high performance of components provide the best possible environment for safe surgical procedures in OR and ambulatory surgery. The large 8" touch screen interface displays clear information regarding pressure and infl ation time. User friendly innovations such as Fast Choice Buttons and specifi c alarm program simplify the use of the device and reinforce patient safety. Longer power failures can be easily overcome by the powerful Lithium-Ion battery to guarantee safe continuation of the procedure.
The very robust housing makes cleaning and disinfection very easy due to the non-sensitive surface of the device.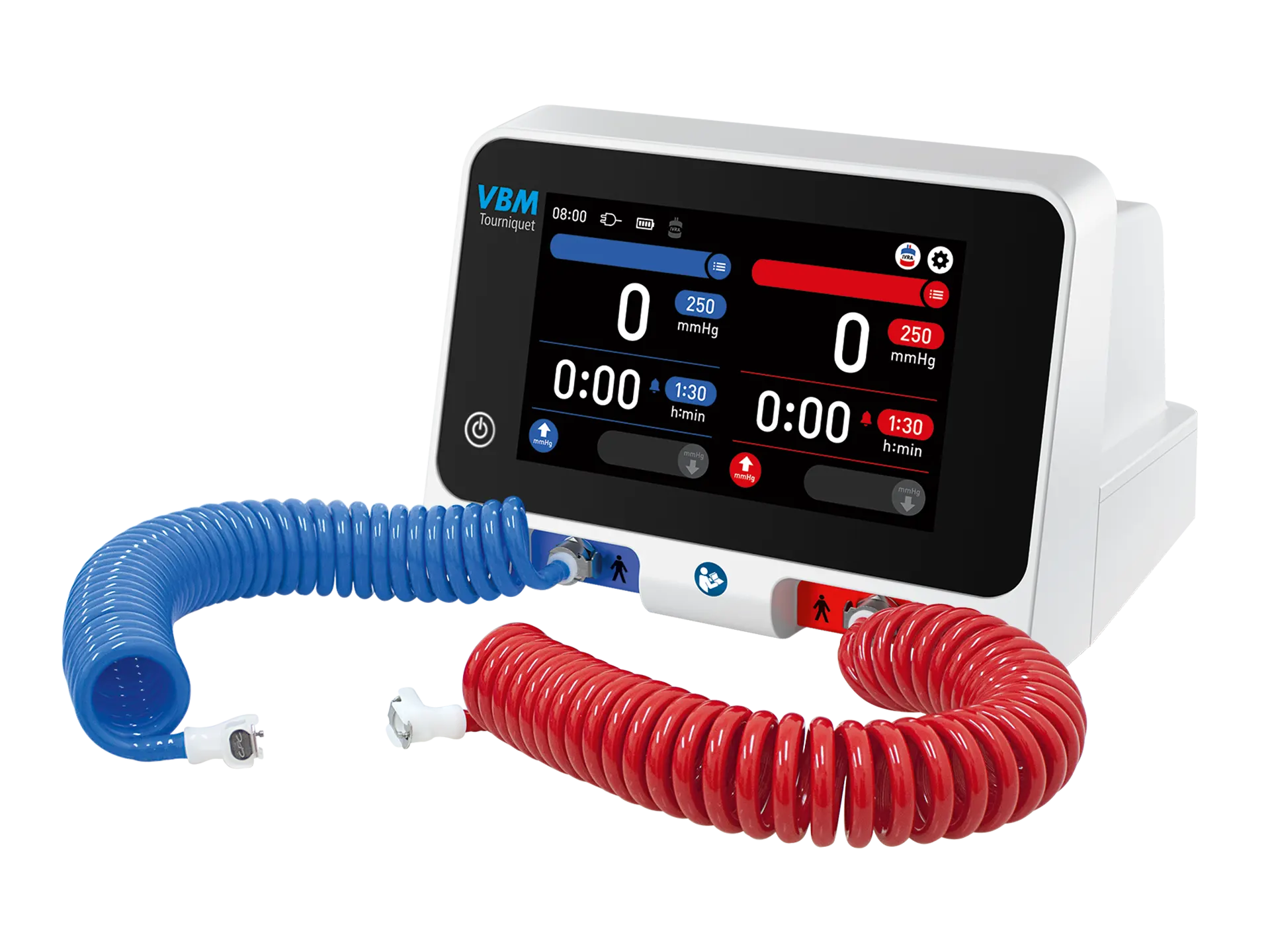 Tourniquet Touch TT20
With two channels for bloodless field operations, bilateral surgery or Intravenous regional anaesthesia (IVRA).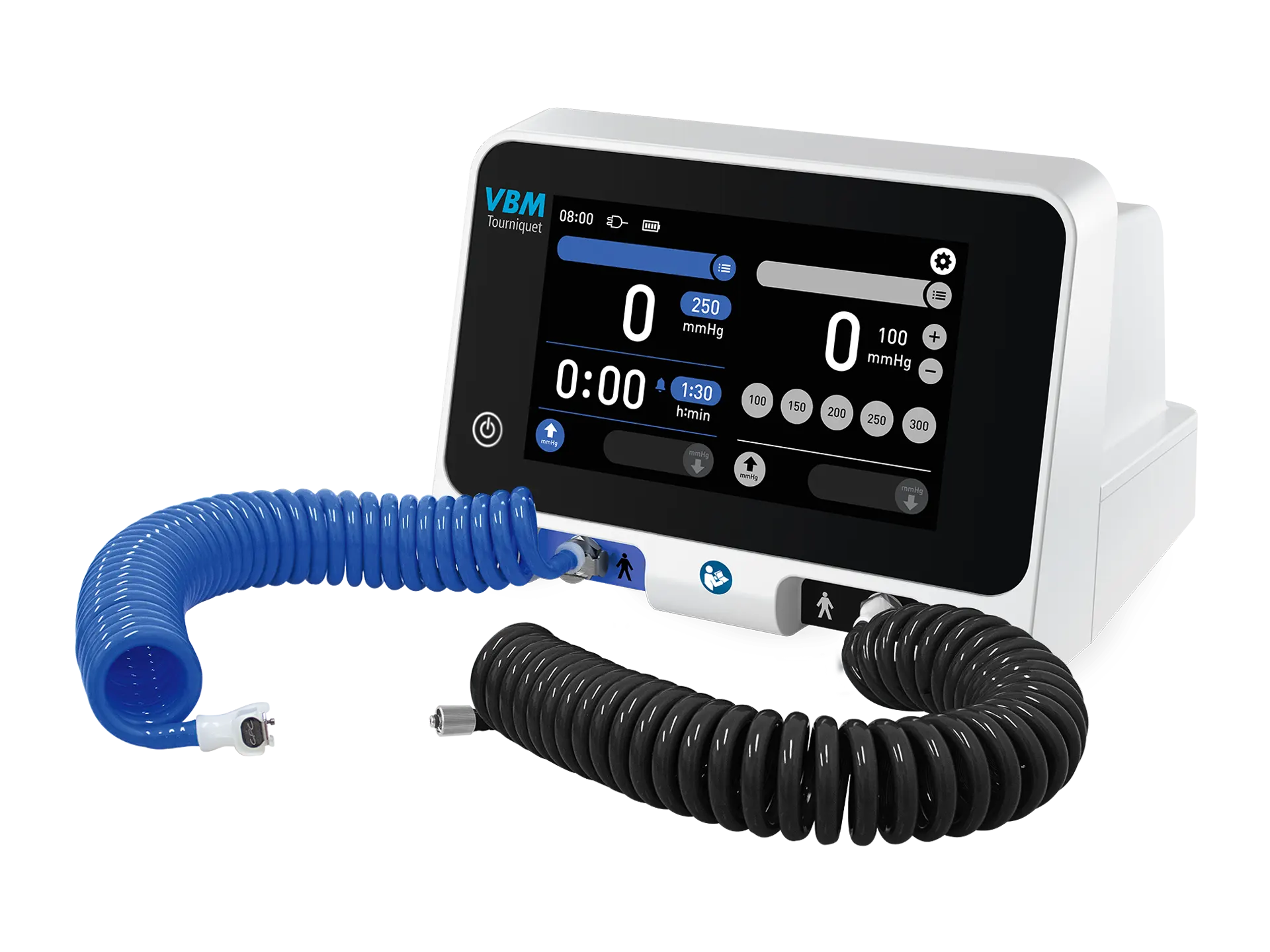 Tourniquet Touch TT15
For combination of bloodless field operations (1 channel) and irrigation purposes (1 channel).
Touch Screen
100% premium glass
Easy cleaning and disinfection
Usable with surgical gloves
Display
8" (800 x 480 pixel)
Wide viewing angle (178°)
Low reflection, mat, anti-glare
Battery
Lithium ion (14.4 V – 93.6 Wh)
Approx. 8 h backup runtime
Housing
With integrated handle
Very robust material
UV-resistant
Surface allows easy cleaning and disinfection
USB-Port
Software Updates
Saving log file for device analysis
Weight and Dimensions
4.5 kg
Height 186 mm | Width 263 mm | Depth 226 mm
The Tourniquet Touch is compatible with all VBM cuffs.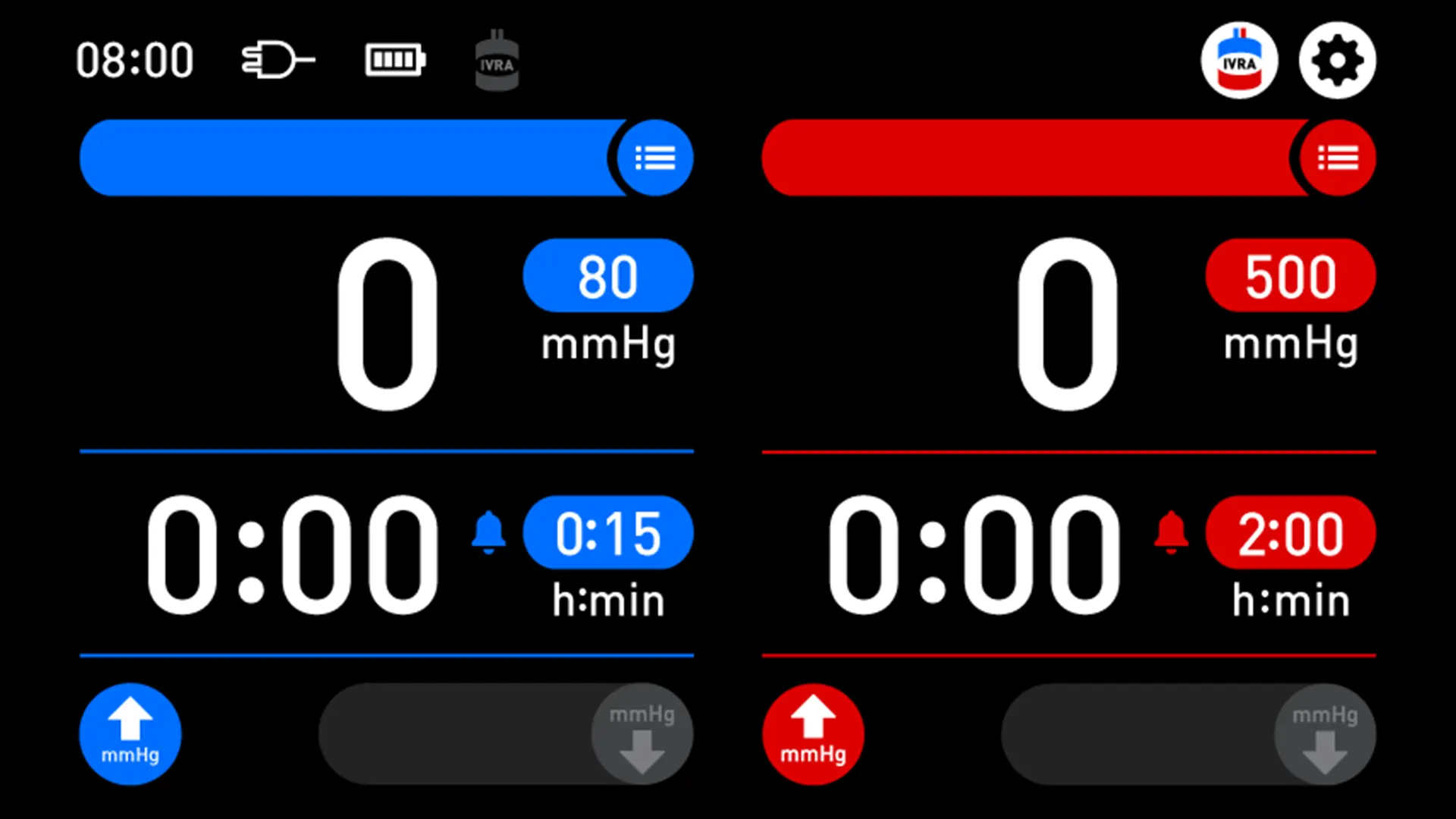 Pressure range / Time range
Pressure range: 80 – 500 mmHg
Time range: 0:15 – 2:00 h
X
Irrigation channel (TT15 only)
Pressure range: 50 – 300 mmHg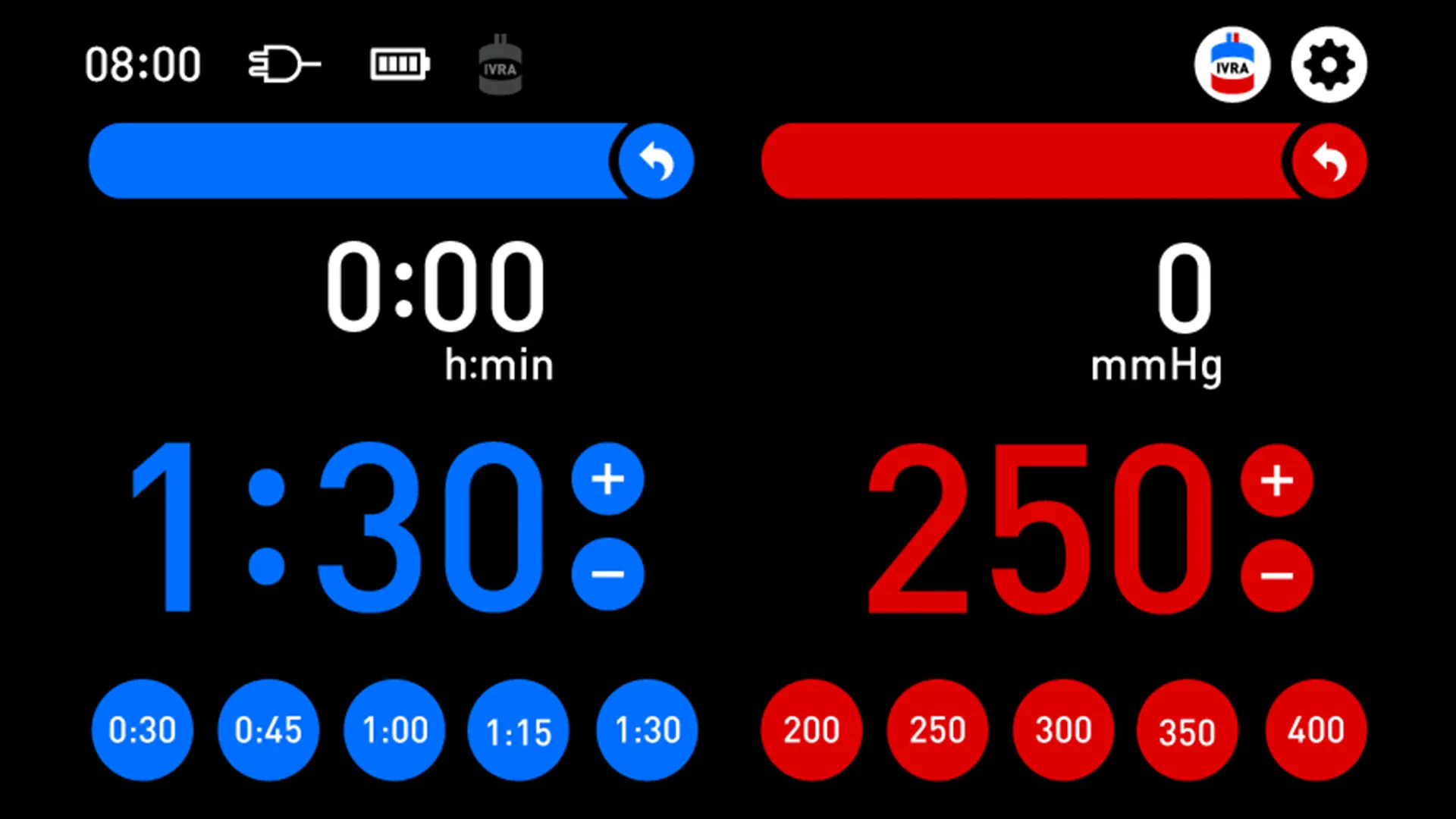 Fast Choice Buttons
Allow to change pressure and time to the preset values with only two touches
No need to tap arrows and confirmation buttons
For max. patient safety in case that immediate pressure changes are required during the surgical procedure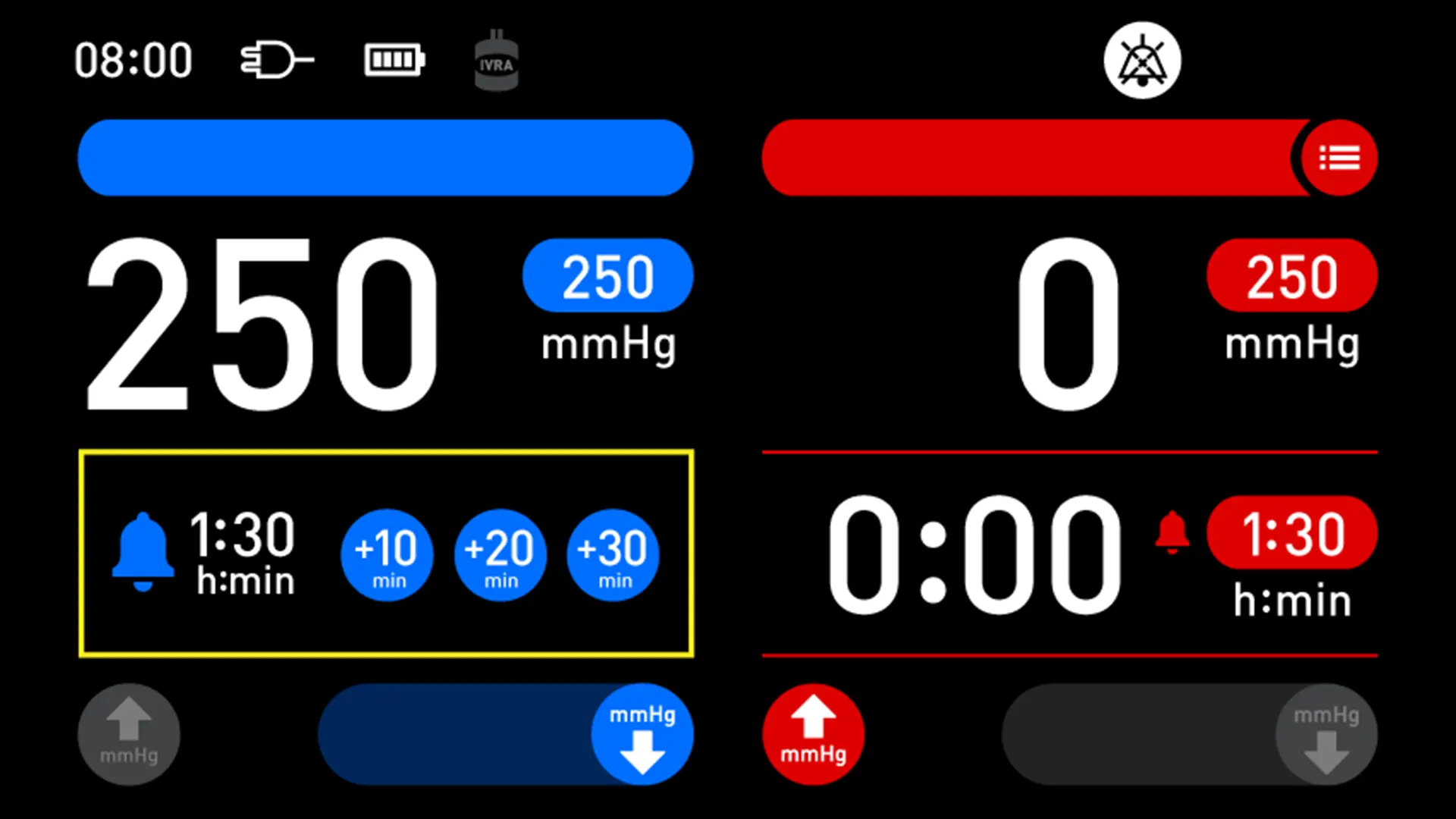 Timer Alarm
Precise time monitoring of Tourniquet Cuff procedure
User is warned after reaching the set alarm time
Add additional time to elapsed inflation time (10, 20 or 30 minutes)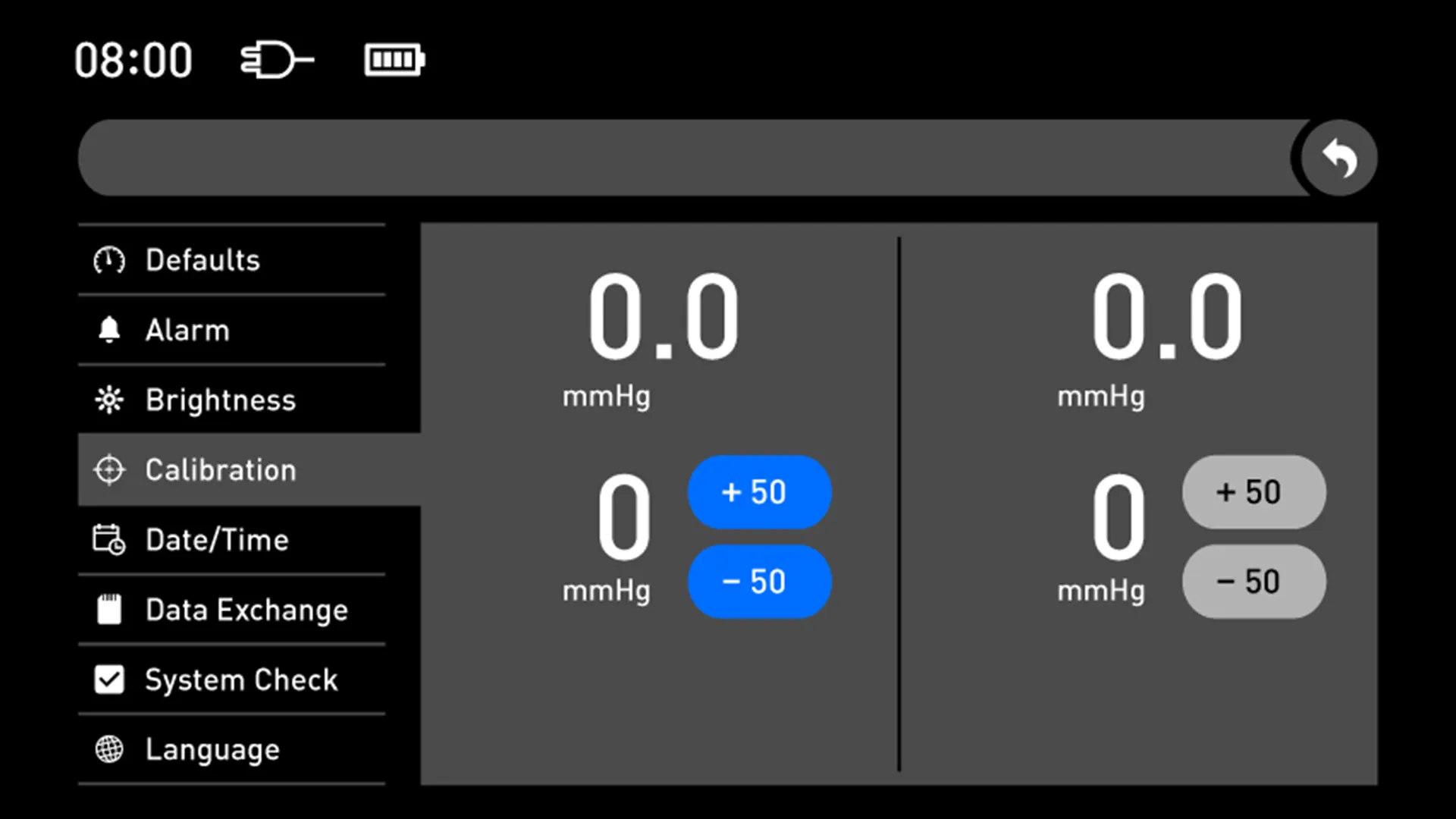 Settings
Defaults allow personalized presetting of time and pressure
Quick access to the display features of the Tourniquet Touch
Easy maintenance for biomedical engineer (calibration, self test, leak test)
14 different languages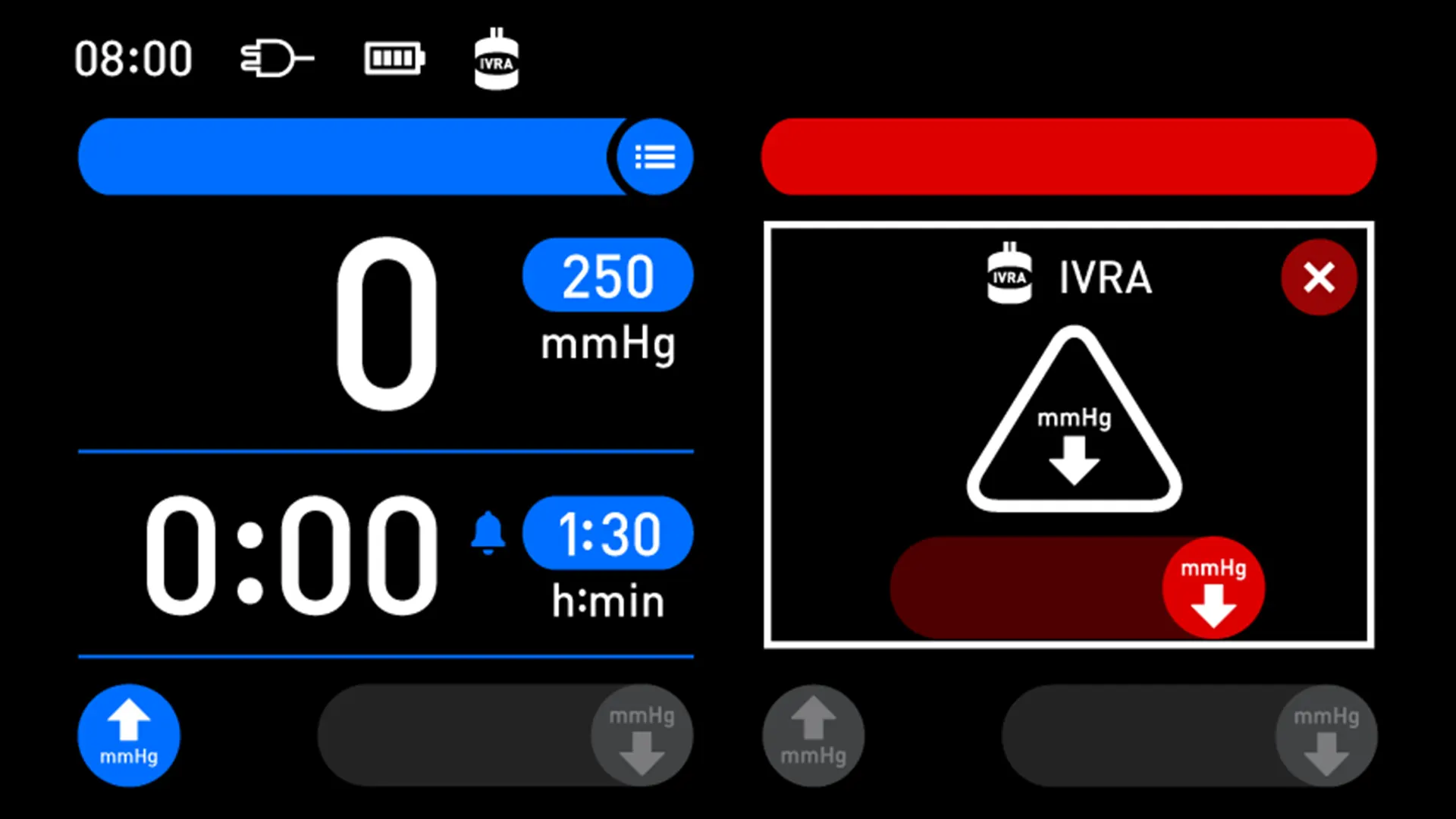 Intravenous Regional Anaesthesia (IVRA) Safety Lockout (TT20 only)
To reduce the risk of unintentional cuff deflation
To prevent the hazard of a sudden loss of IVRA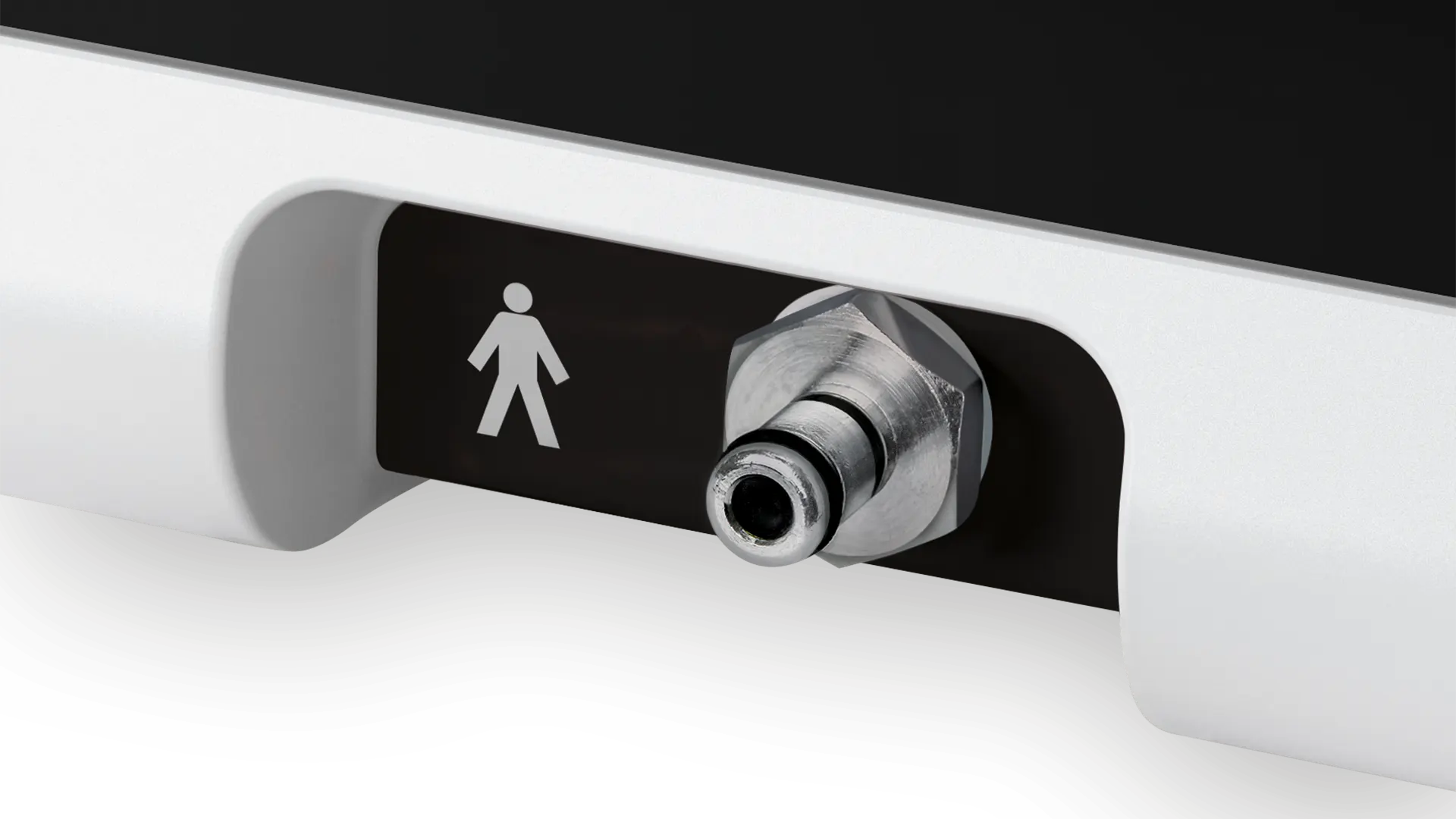 Connection Irrigation Channel (TT15 only)
Irrigation port with dedicated connector for Pressure Infusion Cuff avoids misconnection
Pressure is monitored and adjusted constantly to compensate loss of volume
——Accessories Tourniquet Touch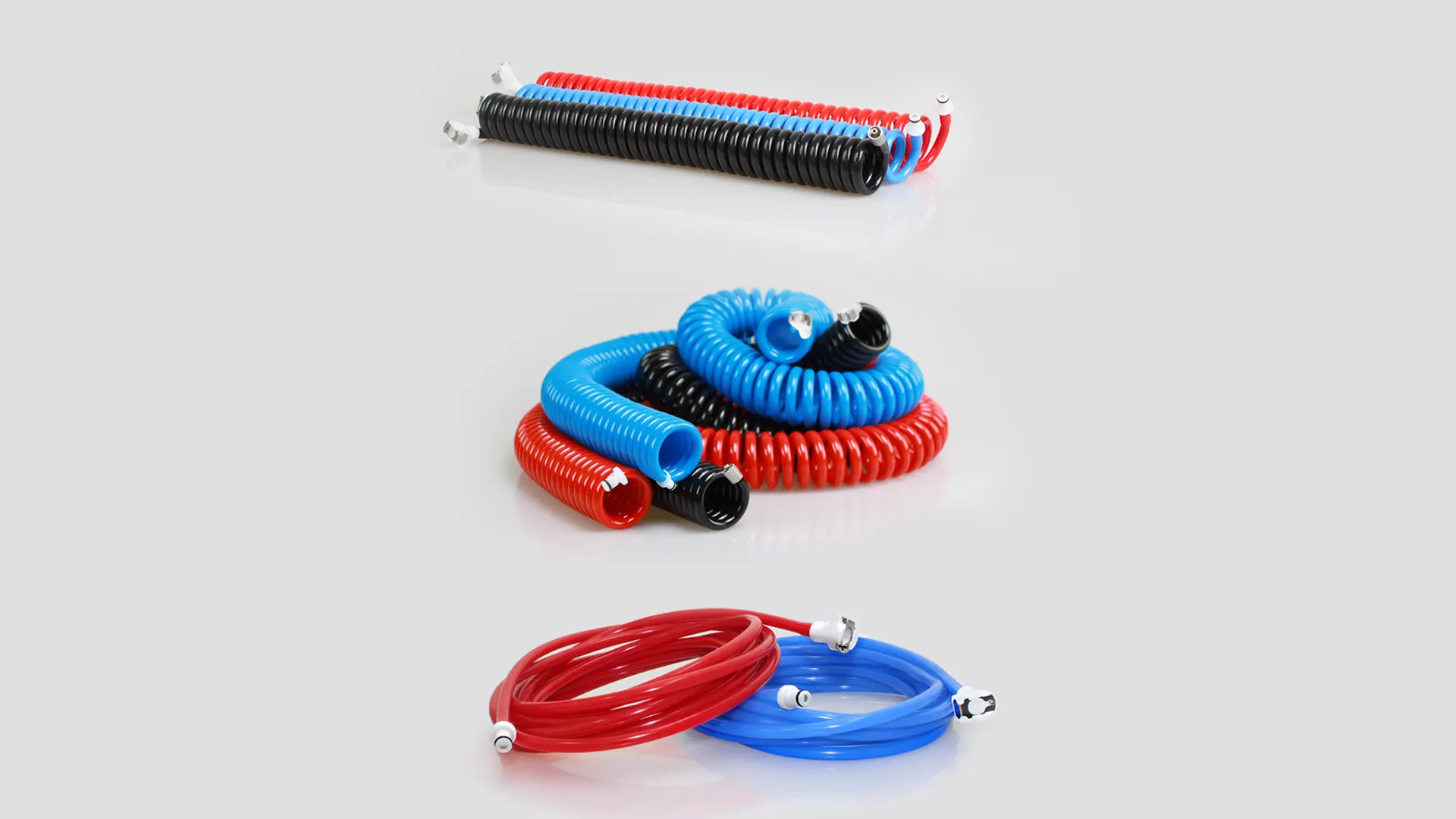 Connection Tubing for Cuff Channel
Coil connecting tubing, blue/red, stretched length 3.0 m | 6.0 m
Smooth connecting tubing blue/red 4.5 m
X
Connecting Tubing for Irrigation Channel
Coil connecting tubing, black, stretched length 3.0 m | 6.0 m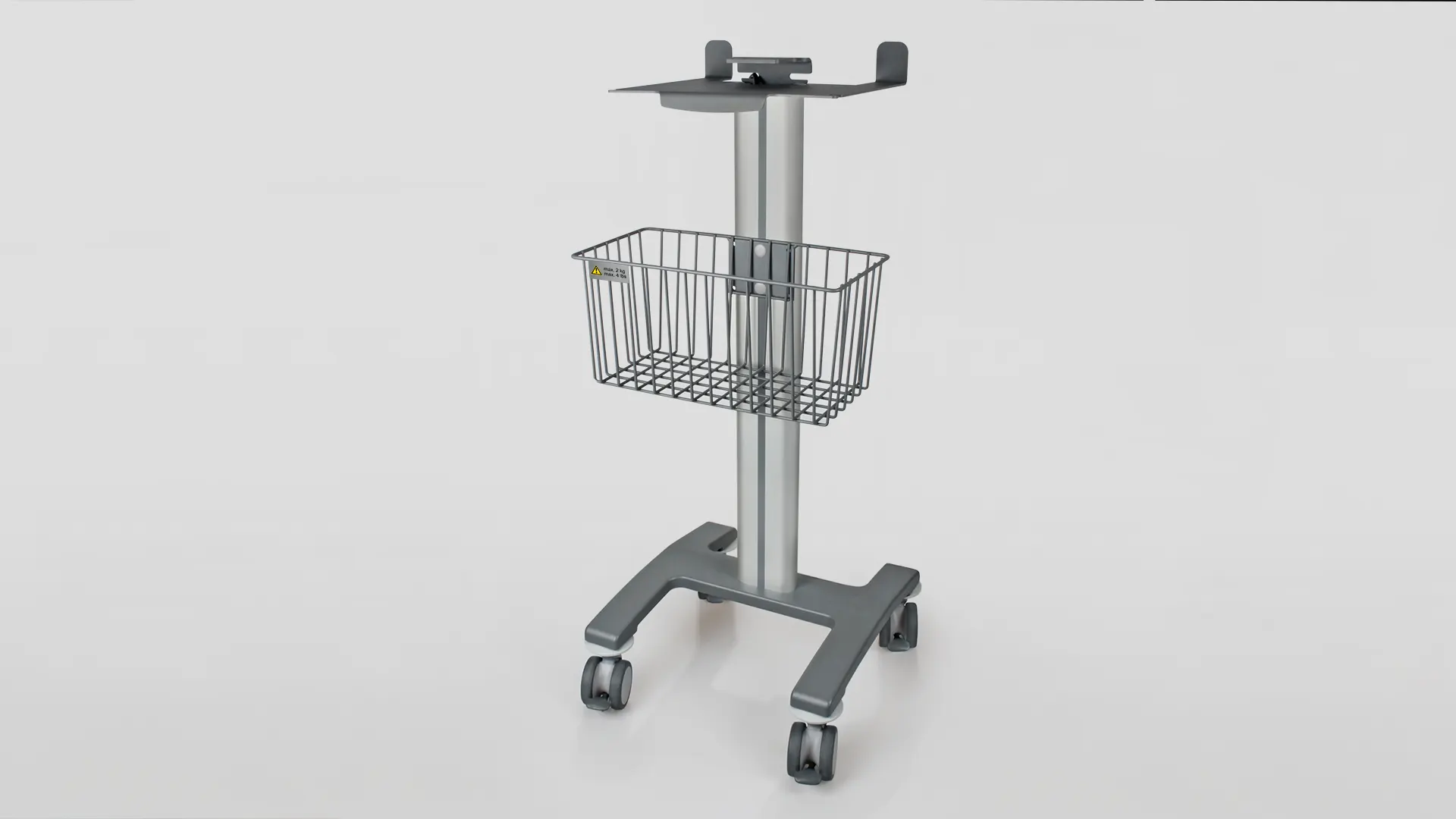 Mobile Stand with Basket
With one basket of 2 kg load capacity
4 castors with lock (2 include ESD)
Dimensions: Height 939 mm | Width 400 mm | Depth 400 mm
Weight: 8.2 kg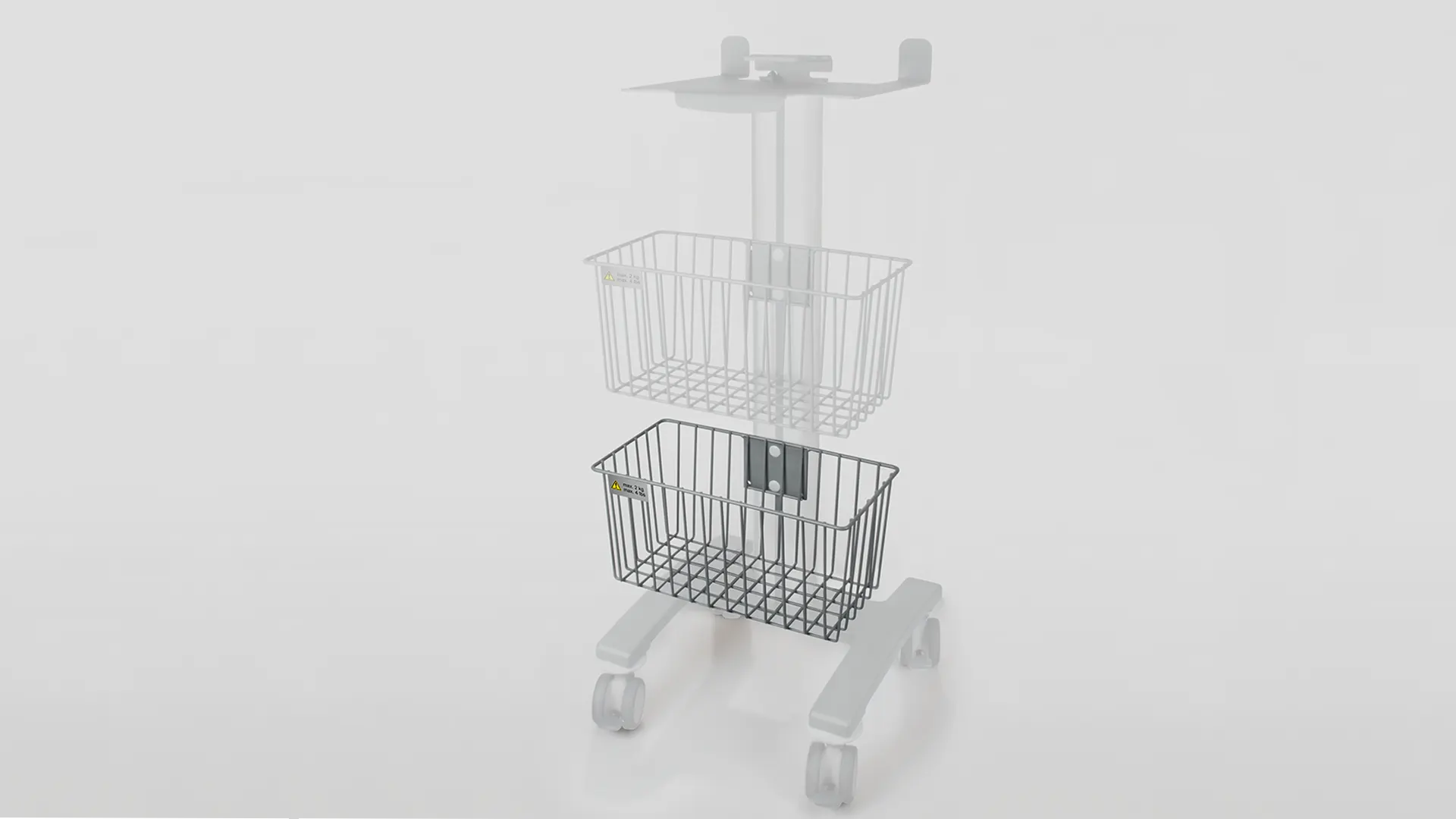 Basket
Dimensions: Height 185 mm | Width 377 mm | Depth 196 mm
Weight: 0.73 kg
——Related Topics & Products
Compressed Air Tourniquets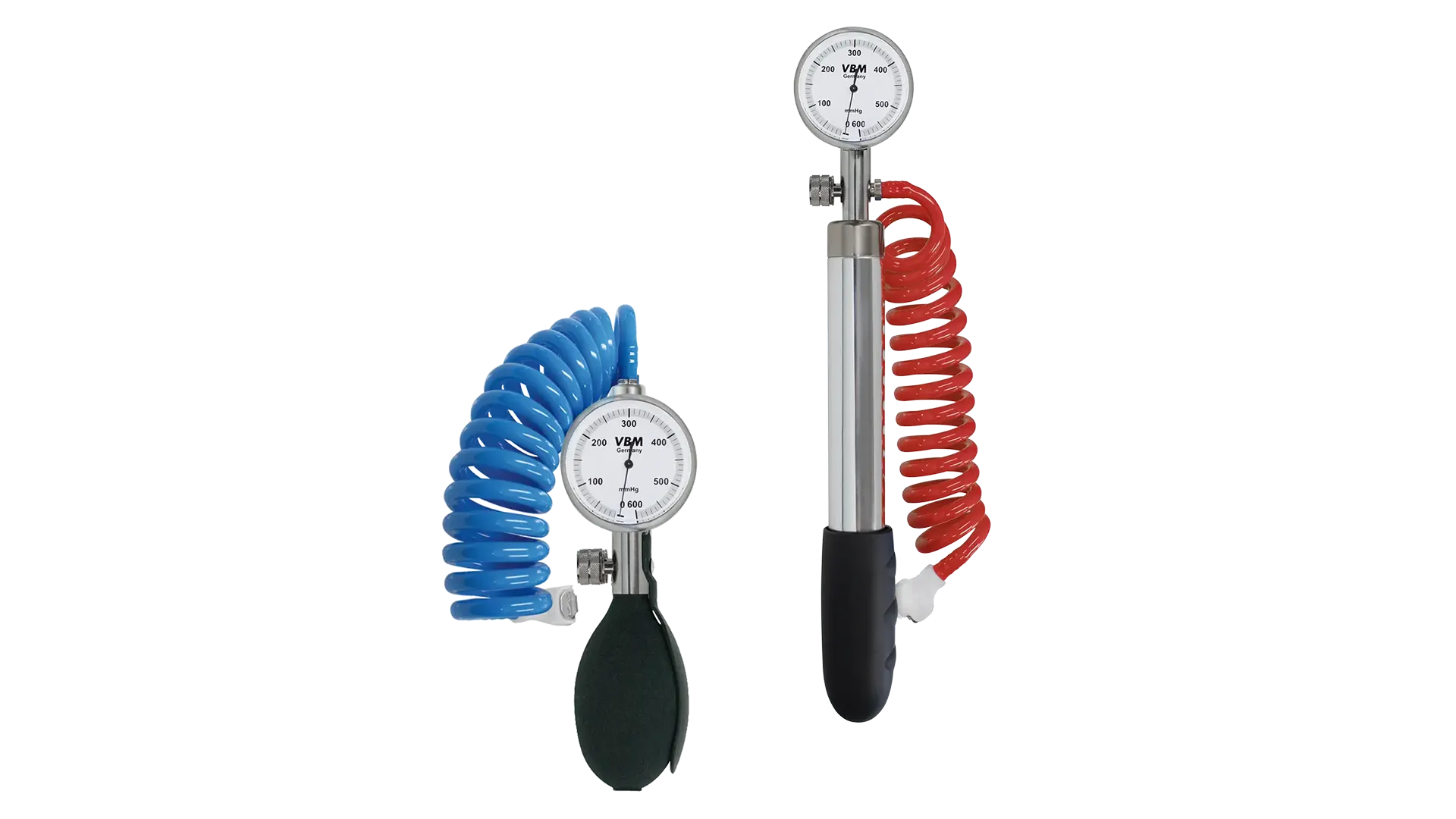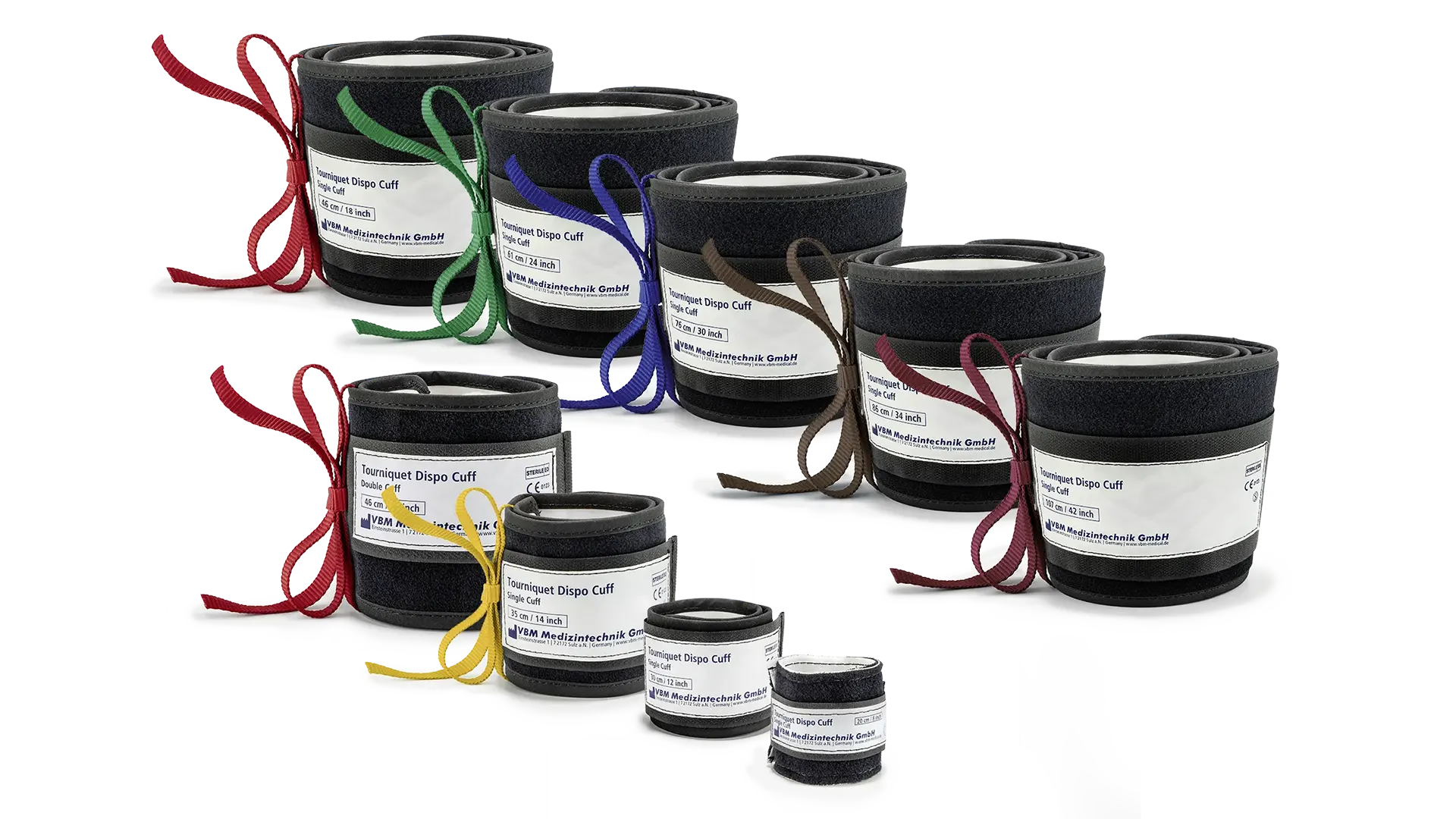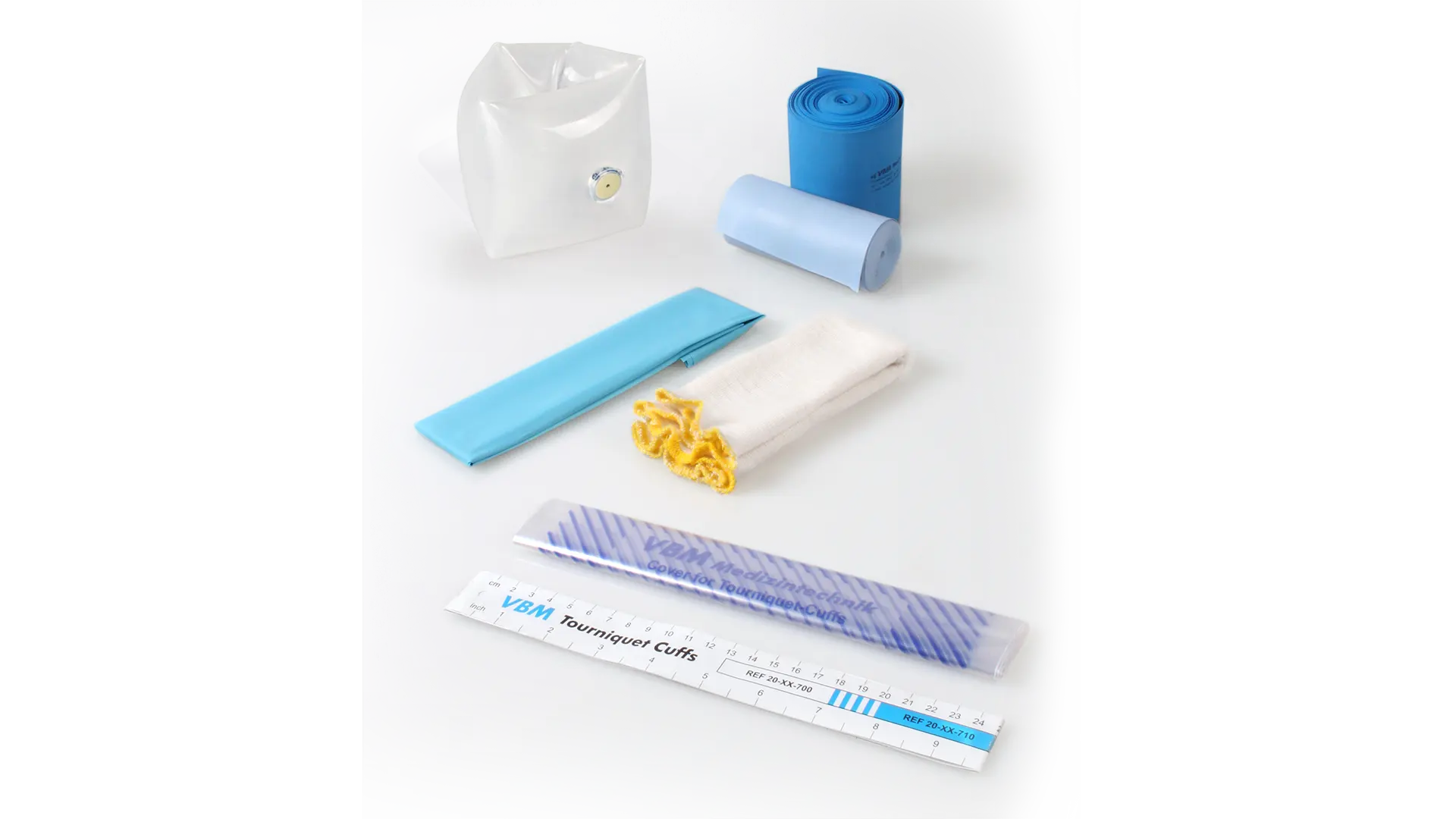 WEB001_PID-03-01-01_1.0_EN