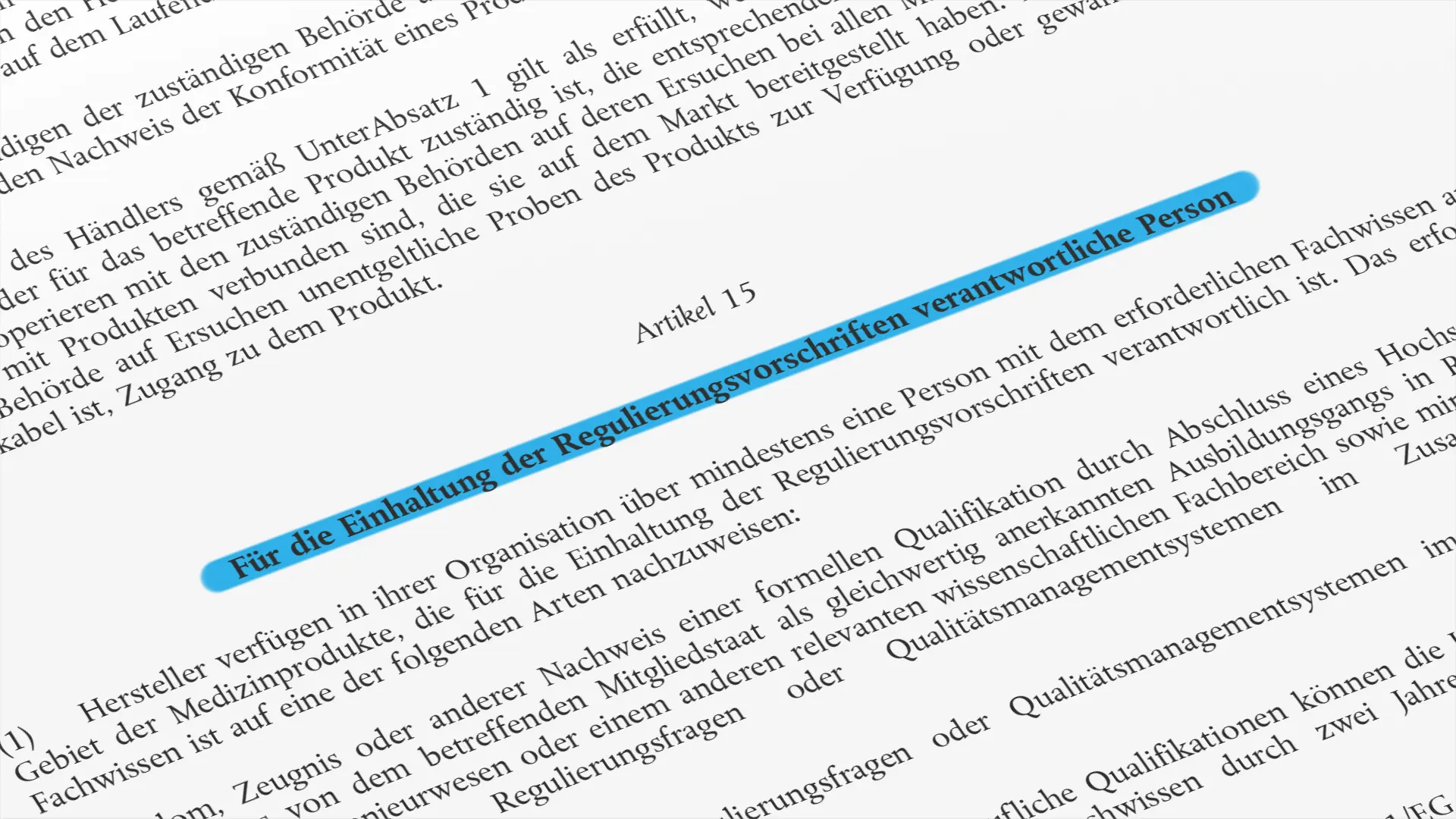 Person Responsible for Regulatory Compliance
To contact the person responsible for regulatory compliance regarding any concerns arising from Article 15, paragraph 3 of MDR 2017/745, please use the contact form below.
Summary of article 15, paragraph 3 of the MDR 2017/745:
(3) The Person Responsible for Regulatory Compliance shall at least be responsible for ensuring that:
a) the conformity of the devices is appropriately checked, in accordance with the quality management system under which the devices are manufactured, before a device is released,
b) the technical documentation and the EU declaration of conformity are drawn up and kept up-to-date,
c) the post-market surveillance obligations are complied with in accordance with Article 10(10),
d) the reporting obligations referred to in Articles 87 to 91 are fulfilled,
e) in the case of investigational devices, the statement referred to in Section 4.1 of Chapter II of Annex XV is issued.
——Contact form Person Responsible for Regulatory Compliance
Data protection notice for the contact form
If you send us enquiries via this contact form, your details from the enquiry form, including the contact details you provide there, will be stored by us for the purpose of processing the enquiry and in the event of follow-up questions. We will not pass on this data without your consent.
The processing of this data is based on Article 6, para. 1, sentence 1 lit. f GDPR if your request is related to the performance of a contract or is necessary for the implementation of pre-contractual measures. In all other cases, the processing is based on our legitimate interest in the effective processing of the enquiries addressed to us (Article 6, para. 1, sentence 1 lit. f GDPR) or on your consent (Article 6, para. 1, sentence 1 lit. f GDPR) if this has been requested; consent can be revoked at any time.
The data you enter in the contact form will remain with us until you request us to delete it, revoke your consent to store it or the purpose for storing the data no longer applies (e.g. after we have completed processing your enquiry).
You can find our detailed data protection notice here: Data Protection Notice
You can find your data subject rights according to the GDPR here: Data subject rights according to the GDPR
WEB001_PID-00-05-03_1.0_EN